Aktorzy Grey's Anatomy :: Sandra Oh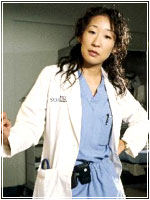 Data urodzenia:

20 lipca 1971

Miejsce urodzenia:

Nepean, Ontario, Kanada

Miejsce zamieszkania:

Los Angeles

Narodowość:

kanadyjska

Wzrost:

1,71 m

Początek kariery:

serial Denim Blues (1989 rok)

Debiut na dużym ekranie:

Double Happiness (1994 rok)

WWW:
Sandra Oh urodziła się w koreańskiej rodzinie na przedmieściach Ottawy, stolicy Kanady. Jej rodzice pobrali się w Seulu w Korei, oboje skończyli studia na uniwersytecie w Toronto. Sandra zaczęła swoją karierę jako baletnica. W tym czasie studiowała aktorstwo w National Theatre School w Montrealu. Szkolne produkcje i przedstawienia teatralne towarzyszyły Sandrze przez cały okres nauki, gdyż bardzo chętnie brała w nich udział. Szybko trafiła więc do telewizji. Wkrótce, tj. w 1993 roku, otrzymała tytułową rolę w telewizyjnym filmie The Diary of Evelyn Lau, za który otrzymała nagrodę dla najlepszej aktorki podczas festiwalu filmowego w Cann. Kolejny wielki sukces przyszedł rok później, gdy za rolę w filmie Double Happiness otrzymała kanadyjskiego odpowiednika Oscara. Tą samą nagrodę otrzymała również w 1998 roku za film Last Night. Nagroda przyszła także za film Dancing at the Blue Iguana, a ostatnio deszcz nagród posypał się również za rolę w filmie Sideways. Dzięki takim dokonaniom nie dziwi fakt, że obecnie filmografia Sandry liczy sobie ponad 50 pozycji.
Gdy w 1996 roku otrzymała rolę w serialu Arli$$, Sandra przeprowadziła się do USA, do Los Angeles. Tutaj mieszka do dzisiaj. Nie ma zbyt dużo wolnego czasu. Mimo, że gra w filmach i serialach, nie porzuciła swoich teatralnych korzeni. Czasami można ją zobaczyć np. na deskach teatru w Nowym Yorku. Również tu Sandra odnosi sukcesy. Nagrodę otrzymała m.in. za rolę w przedstawieniu Stop Kiss.
Sandrze trochę gorzej wiedzie się w prywatnym życiu. W 2005 roku do sądu trafił wniosek o rozwód, który ma zakończyć małżeństwo aktorki z reżyserem, scenarzystą i producentem filmowym, Alexandrem Payne. Para była razem od 1 stycznia 2003 roku.
Sandra biegle włada dwoma językami: francuskim i angielskim, czyli obydwoma urzędowymi językami obowiązującymi w jej rodzinnej Kanadzie.
Filmografia
The Night Listener (2006) jako Anna
Cake (2005) jako Lulu
Sorry, Haters (2005) jako Phyllis MacIntyre
3 Needles (2005) jako Mary
Break a Leg (2005) jako Young Turk
Grey's Anatomy (2005) (serial TV) jako Dr. Cristina Yang
Hard Candy (2005) jako Judy Tokuda
Mulan II (2004) (V) (użyczyła głosu) jako Ting Ting
8 Minutes to Love (2004) jako Joy
Sideways (2004) jako Stephanie
Wilby Wonderful (2004) jako Carol French
Under the Tuscan Sun (2003) jako Patti
Rick (2003) jako Michelle
Long Life, Happiness & Prosperity (2002) jako Kin Ho Lum
Full Frontal (2002) jako Fourth Fired Employee
Barrier Device (2002) jako Audrey
Big Fat Liar (2002) jako Mrs. Phyllis Caldwell
The Proud Family (2001) (serial TV) (voice) jako Marsha Mitsubishi (2001-)
The Princess Diaries (2001) jako Vice Principal Gupta
Further Tales of the City (2001) (mini) (serial TV) jako Bambi Kanetaka
Date Squad (2001) (TV) jako Alpha Baby
Dancing at the Blue Iguana (2000) jako Jasmine
Waking the Dead (2000/I) jako Kim
Three Lives of Kate (2000) jako Narrator
Guinevere (1999) jako Cindy
Permanent Midnight (1998) jako Friend
Le Violon rouge (1998) jako Madame Ming (Montréal)
Last Night (1998/I) jako Sandra
Bean (1997) jako Bernice Schimmel
Bad Day On the Block (1997)
Cowgirl (1996) jako Sara Hwang
Arli$$ (1996) (serial TV) jako Rita Wu
Cagney & Lacey: The View Through the Glass Ceiling (1995) (TV) jako Officer Angela Lum
Prey (1995) jako Il Bae
Double Happiness (1994) jako Jade Li
The Diary of Evelyn Lau (1993) (TV) jako Evelyn Lau
School's Out (1991) (TV) (uncredited) jako Waitress
Denim Blues (1989) (serial TV) jako Gwen
The Journey Home (1989)
Występy gościnne
Judging Amy jako "Detective Shelly Tran" w odcinku: Surprised By Gravity (odcinek #3.9) 27 Listopad 2001
Six Feet Under jako "Porn Starlet" w odcinku: An Open Book (odcinek #1.5) 1 Lipiec 2001
Judging Amy jako "Detective Shelly Tran" w odcinku: Between the Wanting and the Getting (odcinek #2.19) 1 Maj 2001
Judging Amy jako "Detective Shelly Tran" w odcinku: 8 1/2 Narrow (odcinek #2.12) 6 Luty 2001
Popular jako "Humanities Teacher" w odcinku: Under Siege (odcinek #1.3) 7 Październik 1999
Popular jako "Humanities Teacher" w odcinku: Mo' Menace, Mo' Problems (odcinek #1.2) 30 Wrzesień 1999
Kung Fu: The Legend Continues jako "Mai Chi" w odcinku: The First Temple (odcinek #4.2) 5 Luty 1996
Lonesome Dove: The Outlaw Years jako "Ming Li" w odcinku: Badlands (odcinek #1.4) 19 Październik 1995
If Not for You w odcinku: The Kiss 2 Październik 1995
If Not for You w odcinku: Taking a Shower with My Two True Loves 25 Wrzesień 1995
Udział w programach
The Tonight Show with Jay Leno 21 Wrzesień 2005, 8 Kwiecień 2005, 18 Luty 2005
The Wayne Brady Show 17 Wrzesień 2003