Aktorzy Grey's Anatomy :: James Pickens Jr.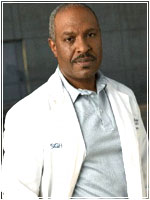 Właściwie:

James Pickens Jr.

Data urodzenia:

26 październik 1954

Miejsce urodzenia:

Cleveland, Ohio, USA

Miejsce zamieszkania:

San Fernando Valley, USA

Narodowość:

amerykańska

Początek kariery:

sztuki w nowojorskich teatrach

Debiut na dużym ekranie:

F/X (1986) jako kierowca karetki

WWW:

nie posiada
Urodził się w Cleveland w stanie Ohio. Swoją przygodę z aktorstwem rozpoczął występami na deskach nowojorskiego teatru Lorraine Hansberry's w sztuce pod tytułem A Raisin In The Sun, wcielając się w postać Waltera Lee i A Soldiers Story, gdzie zagrał również Denzel Washington oraz Samuel L. Jackson. W 1990 Pickens przeniósł się na Wschodnie Wybrzeże. Zaczął grywać niewielkie role w serialach telewizyjnych takich jak: Roseanne, Beverly Hills, 90210. W przyszłości zasłynął, jako zastępca szefa FBI - Alvin Kersh - w kultowym serialu Z Archiwum X oraz Nathan Foster w Nowojorskich gliniarzach. Choć nie jest hollywoodzką megagwiazdą, pracował z wieloma słynnymi reżyserami. Na dużym ekranie pojawił się między innymi w filmie Stevena Soderbergha Traffic (prokurator Ben illiams), Olivera Stone'a Nixon czy Warrena Beatty'ego Bulworth. Reżyser Barry Levinson zatrudniał go aż 4 razy na planach filmów: Liberty Heights, Kula, Uśpieni (gdzie zagrał u boku takich sław jak Kavin Bacon, Robert De Niro, Dustin Hoffman, Brad Pitt) i Jimmy Hollywood.
Wolne chwile poświęca grze w golfa, kręglarstwu i słuchaniu muzyki jazowej. Należy do organizacji United States Team Roping Championship zrzeszającej łapaczy bydła. Niejednokrotnie uczestniczył w konkursach łapania bydła na terenie całych Stanów Zjednoczonych. Pasjonuje go również jeździectwo. Posiada konia imieniem Smokey (Dymek). Mieszka wraz z żoną w San Fernando Valley. Ma dwoje dorosłych dzieci: syna i córkę.
Związane - Traffic: W filmie zagrała również Majandra Delfino.
Związane - Rocketman: W filmie zagrał również William Sadler.
Związane - The Lazarus Man: W serialu zagrał również Nick Wechsler.
Filmografia
Venom (2005) - Sheriff
Grey's Anatomy (2005) Serial - Dr. Richard Webber
The X Files: Resist or Serve (2004) (VG) (głos) - Alvin Kersh
The Lyon's Den (2003) Serial - Terrance Christianson
The Lyon's Den (2003) (TV) - Terrance Christianson
White Rush (2003) - Denny
The X-Files: The Truth (2002) (TV) - Deputy Director Alvin Kersh
Home Room (2002) - Principal Robbins
Semper Fi (2001) (TV) - Mr. Maddox
Traffic (2000) - Ben Williams
Liberty Heights (1999) - Sylvia's Father
A Slight Case of Murder (1999) (TV) - Det. Larry Gray
Little Girl Fly Away (1998) (TV) - Detective Walter Engelhart
How Stella Got Her Groove Back (1998) - Walter Payne
Bulworth (1998) - Uncle David
Sphere (1998) - O.S.S.A. Instructor
Rocket Man (1997) - Ben Stevens
Gridlock'd (1997) - Supervisor
Ghosts of Mississippi (1996) - Medgar Evers
The Uninvited (1996) (TV)
Sleepers (1996) - Marlboro
Power 98 (1996) - Det. Wilkinson
Bloodhounds (1996) (TV) - Agent John DeGraf
Nixon (1995) - Black Orator
Dead Presidents (1995) - Mr. Curtis
Sharon's Secret (1995) (TV) - Ashmore
Trial by Fire (1995) (TV)
Lily in Winter (1994) (TV) - Chick
A Child's Cry for Help (1994) (TV) - Brad Currie
Sodbusters (1994) (TV) - Isaac
Jimmy Hollywood (1994) - Cook
Hostile Intentions (1994) - kapitan Connor
Menace II Society (1993) - Man
Boiling Point (1993/I) jako strażnik więzienny
Trespass (1992) - Police oficer Reese
Exclusive (1992) (TV) - Jonathan Heglin
Hotshot (1987)
Another World (1964) Serial - Zack Edwards (1986-1990)
F/X (1986) jako kierowca karetki
Występy gościnne
Curb Your Enthusiasm jako Doctor w odcinku: The Ski Lift (odcinek #5.8)
Curb Your Enthusiasm jako Doctor w odcinku: The Smoking Jacket (odcinek #5.6)
Jack & Bobby jako Marucs Ride w odcinku: Pilot (odcinek #1.1)
The West Wing jako Mayor w odcinku: Full Disclosure (odcinek #5.15)
Line of Fire jako Kenneth Stevens w odcinku: The Senator (odcinek #1.9)
CSI: Miami jako Prison Warden w odcinku: Body Count (odcinek #1.24)
Six Feet Under jako Roderick Charles w odcinku: Everyone Leaves (odcinek #3.10)
Becker jako Cliff w odcinku: But I've Got Friends I Haven't Used Yet (odcinek #5.13)
Becker jako Cliff Bennett w odcinku: Blind Injustice (odcinek #5.9)
MDs jako Mr. Farrell w odcinku: Cruel and Unusual (odcinek #1.5)
Crossing Jordan jako Agent Hawkins w odcinku: Bombs Away (odcinek #2.2)
Strong Medicine jako Dr. Everett Sloane w odcinku: Outcomes (odcinek #3.2)
The X Files jako FBI Deputy Director Alvin Kersh w odcinku: The Truth: Part 2 (odcinek #9.20)
The X Files jako FBI Deputy Director Alvin Kersh w odcinku: The Truth: Part 1 (odcinek #9.19)
Six Feet Under jako Mr. Charles w odcinku: The Liar and the Whore (odcinek #2.11)
Philly jako Clyde Coleman w odcinku: Thanks for the Mammaries (odcinek #1.21)
Philly jako Clyde Coleman w odcinku: San Diego Padre (odcinek #1.19)
The X Files jako FBI Deputy Director Alvin Kersh w odcinku: Providence (odcinek #9.10)
The X Files jako FBI Deputy Director Alvin Kersh w odcinku: Provenance (odcinek #9.9)
Philly jako Clyde Coleman w odcinku: Lies of Minelli (odcinek #1.15)
The X Files jako FBI Deputy Director Alvin Kersh w odcinku: John Doe (odcinek #9.7)
Philly jako Clyde Coleman w odcinku: Live and Leg Die (odcinek #1.11)
The X Files jako FBI Deputy Director Alvin Kersh w odcinku: Nothing Important Happened Today: Part 2 (odcinek #9.2)
Philly jako Clyde Coleman w odcinku: Blown Away (odcinek #1.6)
The X Files jako FBI Deputy Director Alvin Kersh w odcinku: Nothing Important Happened Today: Part 1 (odcinek #9.1)
Philly jako Clyde Coleman w odcinku: Porn Again (odcinek #1.2)
Philly jako Clyde Coleman w odcinku: Pilot (odcinek #1.1)
The X Files jako FBI Deputy Director Alvin Kersh w odcinku: Existence (odcinek #8.21)
The X Files jako FBI Deputy Director Alvin Kersh w odcinku: Vienen (odcinek #8.18)
The X Files jako FBI Deputy Director Alvin Kersh w odcinku: Three Words (odcinek #8.16)
The X Files jako FBI Deputy Director Alvin Kersh w odcinku: DeadAlive (odcinek #8.15)
The Practice jako Detective Mike McKrew w odcinku: Friends and Ex-Lovers (odcinek #5.10)
The X Files jako FBI Deputy Director Alvin Kersh w odcinku: Via Negativa (odcinek #8.7)
Family Law w odcinku: Family Values (odcinek #2.8)
The X Files jako FBI Deputy Director Alvin Kersh w odcinku: Without (odcinek #8.2)
The X Files jako FBI Deputy Director Alvin Kersh w odcinku: Within (odcinek #8.1)
The District jako Mr. Lane w odcinku: The Real Terrorist (odcinek #1.5)
The Practice jako Detective Mike McKrew w odcinku: Black Widows (odcinek #4.17)
Daddio jako Doug Grayson w odcinku: The Premium Also Rises (odcinek #1.2)
City of Angels jako Wilson Patterson w odcinku: Deliver the Male (odcinek #1.10)
City of Angels jako Wilson Patterson w odcinku: Assume the Position (odcinek #1.9)
NYPD Blue jako Lt. Joe Abner w odcinku: Little Abner (odcinek #7.11)
NYPD Blue jako Lt. Joe Abner w odcinku: Jackass (odcinek #7.9)
NYPD Blue jako Lt. Joe Abner w odcinku: Along Came Jones (odcinek #7.7)
The Practice jako Detective Mike McKrew w odcinku: Checkmates (odcinek #4.14)
City of Angels jako Wilson Patterson w odcinku: The Prince and the Porker (odcinek #1.5)
Any Day Now jako Judge Lucius Pearl w odcinku: Pay Your Dues (odcinek #2.19)
Any Day Now jako Judge Lucius Pearl w odcinku: A Parent's Job (odcinek #2.15)
JAG jako Commander Wallace Burke w odcinku: Rogue (odcinek #5.7)
The Practice jako Detective Mike McKrew w odcinku: Loser's Keepers (odcinek #4.3)
The Practice jako Detective Mike McKrew w odcinku: End Games (odcinek #3.16)
Vengeance Unlimited jako Mr. Hobbs w odcinku: Friends (odcinek #1.16)
The X Files jako FBI Deputy Director Alvin Kersh w odcinku: One Son (odcinek #6.12)
The X Files jako FBI Deputy Director Alvin Kersh w odcinku: Tithonus (odcinek #6.10)
The Practice jako Detective Mike McKrew w odcinku: Love & Honor (odcinek #3.10)
The X Files jako FBI Deputy Director Alvin Kersh w odcinku: Dreamland: Part 1 (odcinek #6.4)
The X Files jako FBI Deputy Director Alvin Kersh w odcinku: Triangle (odcinek #6.3)
The Practice jako Detective Mike McKrew w odcinku: Trench Work (odcinek #3.7)
The X Files jako FBI Deputy Director Alvin Kersh w odcinku: Drive (odcinek #6.2)
The Practice jako Detective Mike McKrew w odcinku: One of Those Days (odcinek #3.6)
The X Files jako FBI Deputy Director Alvin Kersh w odcinku: The Beginning (odcinek #6.1)
The Practice jako Detective Mike McKrew w odcinku: Body Count (odcinek #3.3)
The Practice jako Detective Mike McKrew w odcinku: Reasons to Believe (odcinek #3.2)
Any Day Now jako Judge Lucius Pearl w odcinku: Huh? (odcinek #1.2)
Seinfeld jako Det. Hudson w odcinku: The Finale: Part 1 (odcinek #9.21)
Brooklyn South jako Detective w odcinku: Skel in a Cell (odcinek #1.21)
The Pretender jako Clark Thomas w odcinku: Crash (odcinek #2.17)
The Practice jako Detective Mike McKrew w odcinku: Another Day (odcinek #2.22)
The Practice jako Detective Mike McKrew w odcinku: Cloudy with a Chance of Membranes (odcinek #2.20)
The Practice jako Detective Mike McKrew w odcinku: The Trial (odcinek #2.19)
Brooklyn South jako Detective w odcinku: Violet Inviolate (odcinek #1.14)
The Practice jako Detective Mike McKrew w odcinku: Line of Duty (odcinek #2.15)
Brooklyn South jako Detective w odcinku: Touched by a Checkered Cab (odcinek #1.4)
Walker, Texas Ranger jako Staff Sergeant Luther Parrish w odcinku: The Fighting McLains (odcinek #6.1)
Brooklyn South jako Detective w odcinku: Pilot (odcinek #1.1)
Pacific Palisades jako Josh Smith w odcinku: Past & Present Danger (odcinek #1.7)
Something So Right jako Jim w odcinku: Something About How Jack and Carly Met (odcinek #1.15)
Something So Right jako Jim w odcinku: Something About Reverse Psychology (odcinek #1.13)
Dangerous Minds jako Coach Butch Kelly w odcinku: Moonstruck (odcinek #1.11)
Something So Right jako Jim w odcinku: Something About Schmoozing (odcinek #1.5)
Something So Right jako Jim w odcinku: Something About Seared Ahi (odcinek #1.3)
Roseanne jako Chuck Mitchell w odcinku: Honor Thy Mother (odcinek #9.4)
Something So Right jako Jim w odcinku: Something About Jack's Ex (odcinek #1.2)
One West Waikiki w odcinku: Allergic to Golf (odcinek #2.13)
The Lazarus Man w odcinku: The Conspirator (odcinek #1.5)
Roseanne jako Chuck Mitchell w odcinku: Construction Junction (odcinek #8.16)
In the House jako Russell w odcinku: My Crazy Valentine (odcinek #2.15)
Roseanne jako Chuck Mitchell w odcinku: Out of the Past (odcinek #8.15)
Touched by an Angel jako George w odcinku: The Driver (odcinek #2.4)
Roseanne jako Chuck Mitchell w odcinku: My Name Is Bev (odcinek #7.14)
Roseanne jako Chuck Mitchell w odcinku: White Men Can't Kiss (odcinek #7.9)
Me and the Boys jako Coach w odcinku: Black Dads Can't Jump (odcinek #1.7)
Coach jako Rick Williams w odcinku: Blue Chip Blues (odcinek #6.19)
Renegade w odcinku: Hostage (odcinek #2.15)
Roseanne jako Chuck Mitchell w odcinku: Suck Up or Shut Up (odcinek #6.13)
Roseanne jako Chuck Mitchell w odcinku: Homecoming (odcinek #6.9)
NYPD Blue jako Nathan Foster w odcinku: Personal Foul (odcinek #1.6)
Murder, She Wrote jako Sonny Greene w odcinku: The Survivor (odcinek #9.21)
Roseanne jako Chuck Mitchell w odcinku: Glengarry, Glen Rosey (odcinek #5.23)
Roseanne jako Chuck Mitchell w odcinku: Promises, Promises (odcinek #5.22)
Roseanne jako Chuck Mitchell w odcinku: War and Peace (odcinek #5.14)
Roseanne jako Chuck Mitchell w odcinku: Crime and Punishment (odcinek #5.13)
Doogie Howser, M.D. w odcinku: Roommate with a View (odcinek #4.13)
Roseanne jako Chuck Mitchell w odcinku: Stand on Your Man (odcinek #5.9)
L.A. Law jako Joseph Russell w odcinku: Zo Long (odcinek #7.3)
Roseanne jako Chuck Mitchell w odcinku: Halloween IV (odcinek #5.7)
Parker Lewis Can't Lose w odcinku: Hungry Heart (odcinek #3.8)
Roseanne jako Chuck Mitchell w odcinku: Secrets (odcinek #4.23)
Blossom jako Vinnie w odcinku: The Letter (odcinek #2.18)
Roseanne jako Chuck Mitchell w odcinku: The Bowling Show (odcinek #4.14)
Roseanne jako Chuck Mitchell w odcinku: Trick Me Up, Trick Me Down (odcinek #4.6)
Roseanne jako Chuck Mitchell w odcinku: Why Jackie Becomes a Trucker (odcinek #4.3)
Beverly Hills, 90210 jako Henry Thomas w odcinku: Play It Again, David (odcinek #2.5)
Beverly Hills, 90210 jako Henry Thomas w odcinku: Anaconda (odcinek #2.4)
Roseanne jako Chuck Mitchell w odcinku: Scenes from a Barbecue (odcinek #3.24)
Roseanne jako Chuck Mitchell w odcinku: Trick or Treat (odcinek #3.7)